I worked hard on it, stayed home from school to work on it- and although it's not perfect, I've made a Daughter of Evil model.

http://www.youtube.com/watch?v=N90vFhnAgic

You can find the link in the video's description.
Please pay attention to the rules in the readme file.

I'm now working on a Daughter of Green. Here's a little preview: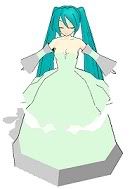 I am giving her different sleeves and adding more accessories; she should be available soon.